SageTea Software has invented the world's first commercial natural language programming development platform: Text to Software. With Text to Software, clients in any industry can transform the written word into a working software system with little or no coding. This saves a significant amount of time and money.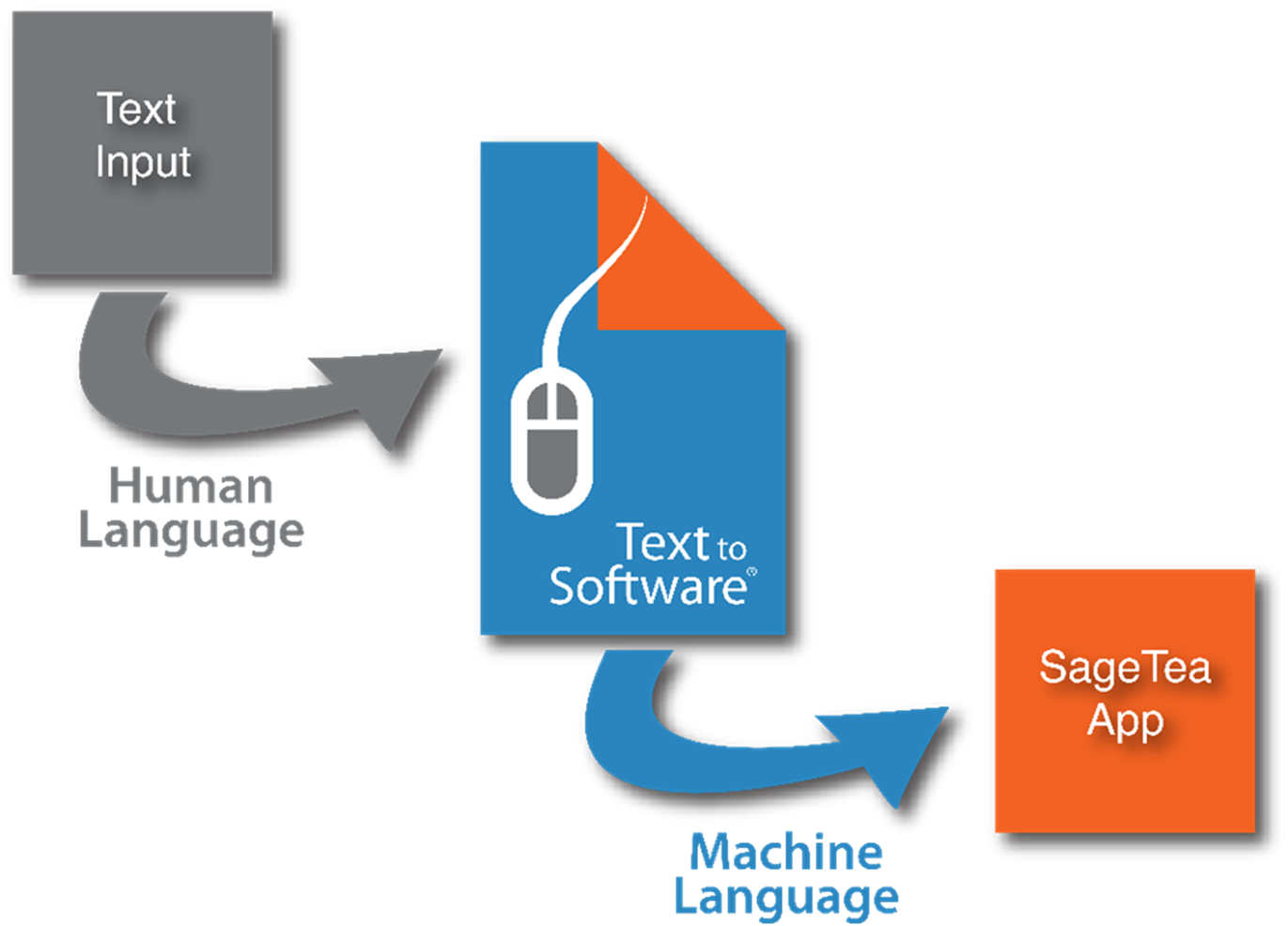 Text to Software® is a software development tool. It is a "low code" tool that takes the complexity and mystery out of building software. If you can write down what you need, our tool can create software for you with very little work by you. You don't need a degree in Computer Science, and you can create software faster and with considerably less cost.
Text to Software® manages a database automatically. It comes with a built-in cloud, has integrated security and access control and provides language management for your application. Text to Software® can automatically assist developers with built-in expert features.
Text to Software® is the world's first natural language processing (NLP) development platform
It sets up an application from an imported requirements Word document and then tailors it using pre-built "Smart Parts"
It is a true low-code platform that provides ease-of-use without resorting to templates, and customization without the high cost
Includes integrated Business Intelligence for migration of data into projects using Text to Software
It creates and supports General Process, Software Development Lifecycle (SDLC), Database Integration, Rapid Application Development (RAD), Model-based Process, Use Case Management and Metadata Modelling
It publishes documents like Statements of Work, Estimates, Proposals, User Acceptance Tests, Manuals, Contracts, Work Breakdown Structures, Requirements Verification Matrices and System Designs directly to Microsoft Word
It is an "expert system" with a self-learning chat feature
Comes with included applications SageTea EMR, SageTea Warehouse Management, Inspections and many others.
Text to Software® addresses the following challenges:
It has an agnostic database import function able to update a broad base of legacy database systems including CSV, Excel, MS Access, SQL Server, ODBC and Oracle
Its rapid application development ability solves the problem of short turnaround or limited financing for a project
Its highly customizable platform enables workflows and forms to be mapped into the software
It makes Change Management easier as the application is tailored to a department's existing processes
It comes with application DLC files to be used as-is, or incorporated into your software project:
Text to Software® has solved the following challenges:
Data that needs to be retrieved or analyzed, and data systems that need to be updated or digitized:

Medical records
Environmental data
Shipping, inspection and compliance reports

Workflow processes that need to be efficiently and affordably digitized:

Field inspection reports on tablets rather than paper
Warehouse record and database system for real-time tracking
Insurance provider's claims management and status tracking

Data that requires security and access protocols:

Hospitals that require logs of accessed records
User permissions for controlled access to information according to user's security clearance
Military field data communication systems

Custom software development when time and cost are a factor:

Department requires specific software but has limited time and/or budget
Existing software is hard to use and difficult to make changes to
Processes or needs have changed and updating the software is too expensive
Read more about Text to Software®.
Buy Text to Software SMB Edition Now
To Request a Demo: